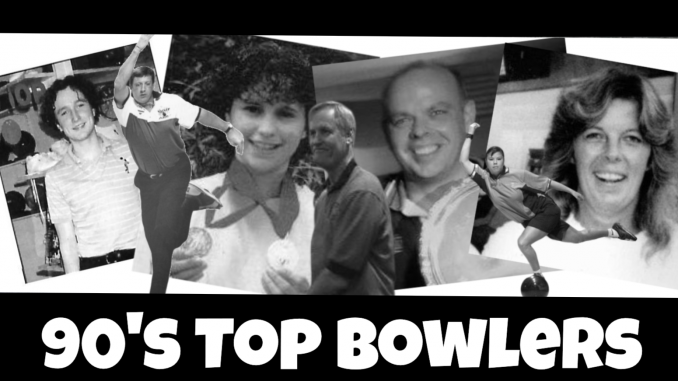 We have previously published the best Bowlers of the Decades based on our database of results and ranking points system.
Bowling really took off in the 1990s with Great Britain and England teams at both Youth and Adult levels winning numerous medals.
We now publish year by year who, according to our records, was the best bowler each year throughout the 1990s.
| | | | |
| --- | --- | --- | --- |
| Year | Name | Entries | Points |
| 1990 | Phil Scammell | 4 | 10 |
| 1990 | Kim Oakley (Coote) | 6 | 18 |
| 1991 | Phil Scammell | 8 | 20 |
| 1991 | Pauline Buck (Smith) | 5 | 19 |
| 1992 | Phil Scammell | 4 | 12 |
| 1992 | Emma Barlow | 3 | 33 |
| 1993 | Paul Delany | 3 | 14 |
| 1993 | Pauline Buck (Smith) | 13 | 67 |
| 1994 | Paul Delany | 8 | 27 |
| 1994 | Gemma Burden (Harding) Pauline Buck (Smith) | 5 9 | 23 23 |
| 1995 | Wayne Greenall Richard Hood | 7 5 | 13 13 |
| 1995 | Gemma Burden (Harding) | 7 | 29 |
| 1996 | Andy Giles Chris Johnson | 2 2 | 15 15 |
| 1996 | Gemma Burden (Harding) | 8 | 39 |
| 1997 | Wayne Greenall | 10 | 24 |
| 1997 | Pauline Buck (Smith) | 7 | 30 |
| 1998 | Ron Oldfield | 4 | 9 |
| 1998 | Lisa John | 7 | 32 |
| 1999 | Kirsten Penny | 8 | 24 |
| 1999 | Wayne Greenall | 12 | 26 |