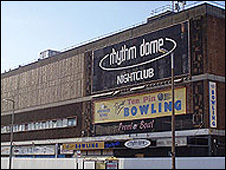 By John Ashbridge, Tenpin Bowling Proprietors Association President
The last but one bowling centre, as part of the Top Rank estate to open, was the 36-lane Brunswick equipped centre in Central Drive, Blackpool which id believed to have opened on 1st October 1965.. The thirty-six lanes were installed in a line on one level with A2 type pinsetters. Located in a purpose-built building just a short walk from the seafront, the centre started to trade well although very little information of the early days is available.
The centre operated until sometime in the early 1970's when the Rank Organisation decided to close all its remaining bowling centres. The Blackpool Mecca Building remained. In the 1970s, it was particularly known for The Highland Room, which was a major Northern Soul music venue. From 1977 onwards it was also host to the Commonwealth Sporting Club. The building was closed down in 1980s.
It is not known if the building operated at any time during the next ten years, but the August 1990 edition of World of Tenpin featured the reopening of the bowl.
Now named Premier Bowl, the machinery included equipment from different suppliers. The Brunswick A2 pinsetters and bowling lanes were retained and matched with Mendes ball returns and masking units supplied by Heddon.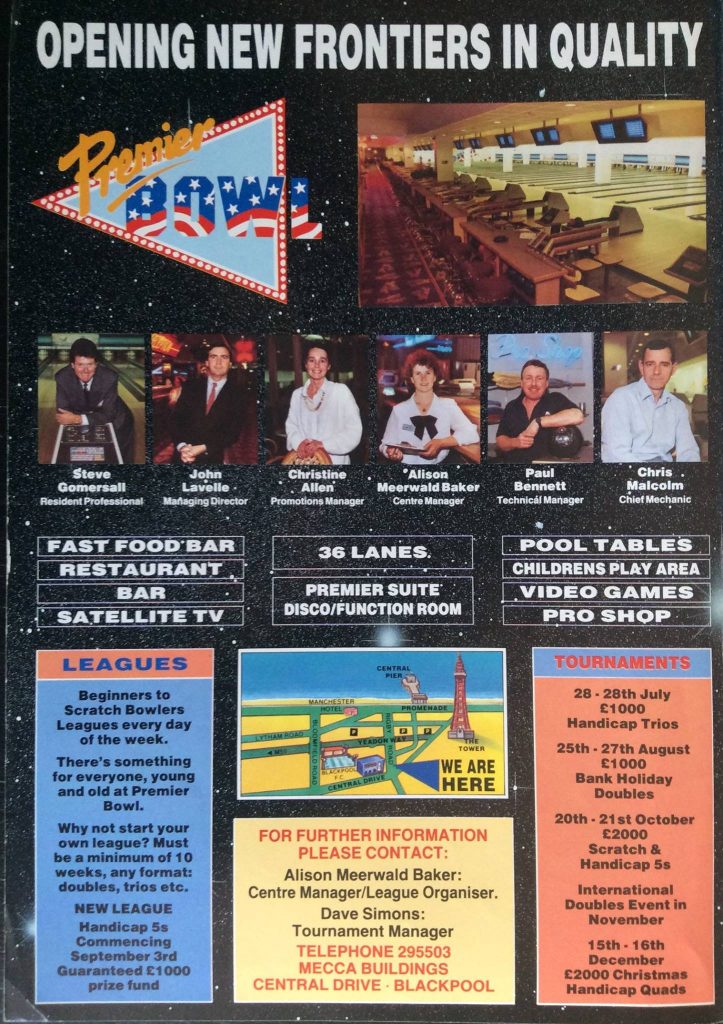 The scoring installed was the AMF Accu-Score system which not only, recorded bowlers scores, but also provided satellite television and music channels to be played.
Ownership at this time was recorded as Blackpool Premier Leisure Ltd and by 1994 the centre was described as Seldon's Premier Bowl and in the 1996 edition of the World of Tenpin Bowling Centre Directory ownership was recoded as Seldon's Leisure. However, by 1999 ownership had changed again, with the centre being part of the AMF owned centres.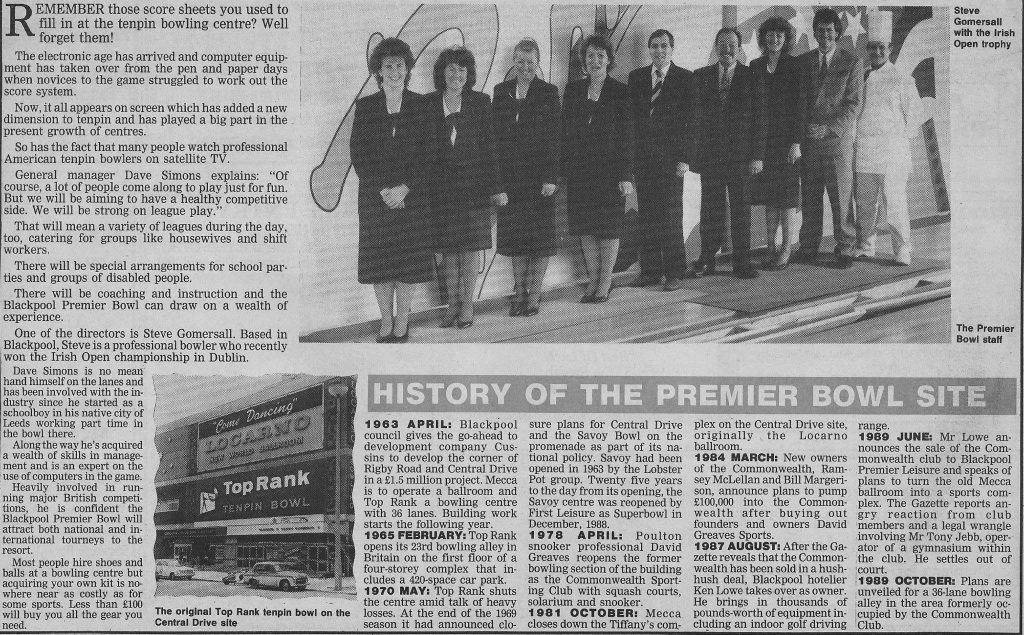 In the 2001 centre directory ownership was described as Sole Leisure Ltd but during the following twelve months 8 lanes were removed therefore leaving the bowl with 28. Ownership remained with Sole Leisure Ltd until, at least 2009. The centre is still believed to be trading in 2020 although no other information is available.