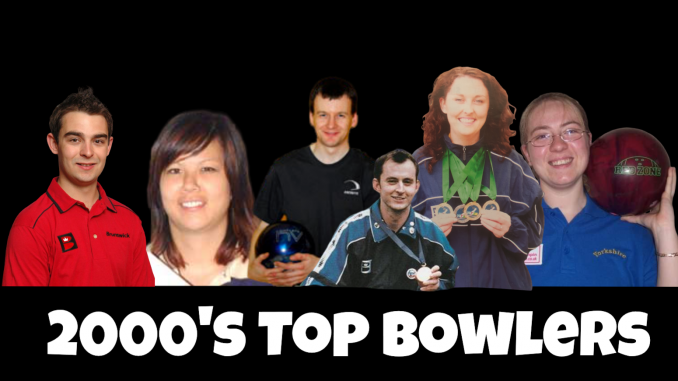 We have previously published the best Bowlers of the Decades based on our database of results and ranking points system.
We now enter a Golden Era for UK Bowling with medals galore at International level for both Adult and Youth teams. More and more bowers were now playing in Europe.
We now publish year by year who, according to our records, was the best bowler each year throughout the 2000s.
| | | | |
| --- | --- | --- | --- |
| Year | Name | Entries | Points |
| 2000 | Steve Thornton | 5 | 12 |
| 2000 | Kirsten Penny | 9 | 28 |
| 2001 | Nick Froggatt | 8 | 23 |
| 2001 | Kirsten Penny | 13 | 85 |
| 2002 | Nick Froggatt | 12 | 36 |
| 2002 | Donna Ellis (Adams) | 12 | 72 |
| 2003 | Paul Moor | 8 | 20 |
| 2003 | Zara Giles (Glover) | 8 | 79 |
| 2004 | Paul Moor | 16 | 56 |
| 2004 | Jenny Billingham | 8 | 32 |
| 2005 | Paul Moor | 6 | 43 |
| 2005 | Becki Jolly | 4 | 27 |
| 2006 | Paul Moor | 9 | 48 |
| 2006 | Fiona Banks | 10 | 50 |
| 2007 | Paul Moor | 6 | 42 |
| 2007 | Kirsten Penny | 5 | 37 |
| 2008 | Dom Barrett | 11 | 103 |
| 2008 | Kirsten Penny | 8 | 43 |
| 2009 | Dom Barrett | 9 | 64 |
| 2009 | Zara Giles | 6 | 28 |