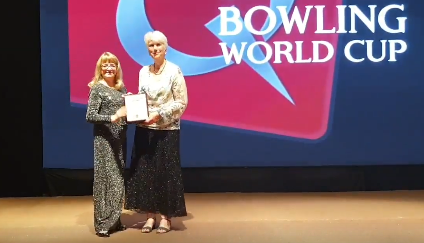 Our 2019 Woman's inductee Judy Howlett was given her award in front of a packed crowd at the QubicaAMF Bowling World Cup in Palembang Indonesia during the victory banquet. Judy who retired after winning the Scottish Open in 1994 continued in the sport reporting for the World Cup for the last 19 years celebrating 20 next year in Kuwait.
She was handed her award to a standing ovation by Qubica AMF Tournament organizer and long time friend Anne-Marie Board.
View award presentation here – https://www.facebook.com/UKTenpinHallofFame/videos/403391437211466/
Judy then gave here acceptance speech – https://www.facebook.com/UKTenpinHallofFame/videos/909190959481210/

Judy Howlett
Year Inducted – 2019
Judy Howlett became the first English women to win the British Open in 1983 going on to win it again in 1985. Winning Gold, Silver and Bronze medals in the European championships and Bronze in the World Championships Judy almost won the biggest event on the planet placing 2nd in the 1985 AMF Bowling World Cup. Wins on the PTBC and 13 wins on the NST tour in a productive bowling career.
Achievements