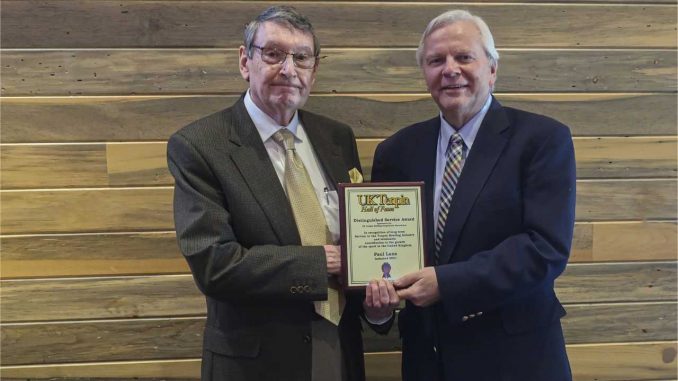 Don MacBrayne (right) Director at Large of the Bowling Proprietors Association of America, presents the U.K. Tenpin Hall of Fame Distinguished Service Award for 2021 to Paul Lane on behalf of the U.K. Tenpin Bowling Proprietors Association who sponsored the award.
2021 threw up many challenges including inducting our distinguished Service awardee Paul Lane. At last we have finally been able to make the presentation thanks to the Bowling Proprietors of America with Director at large, Don MacBrayne performing the honours for us and presenting Paul with his much deserved award.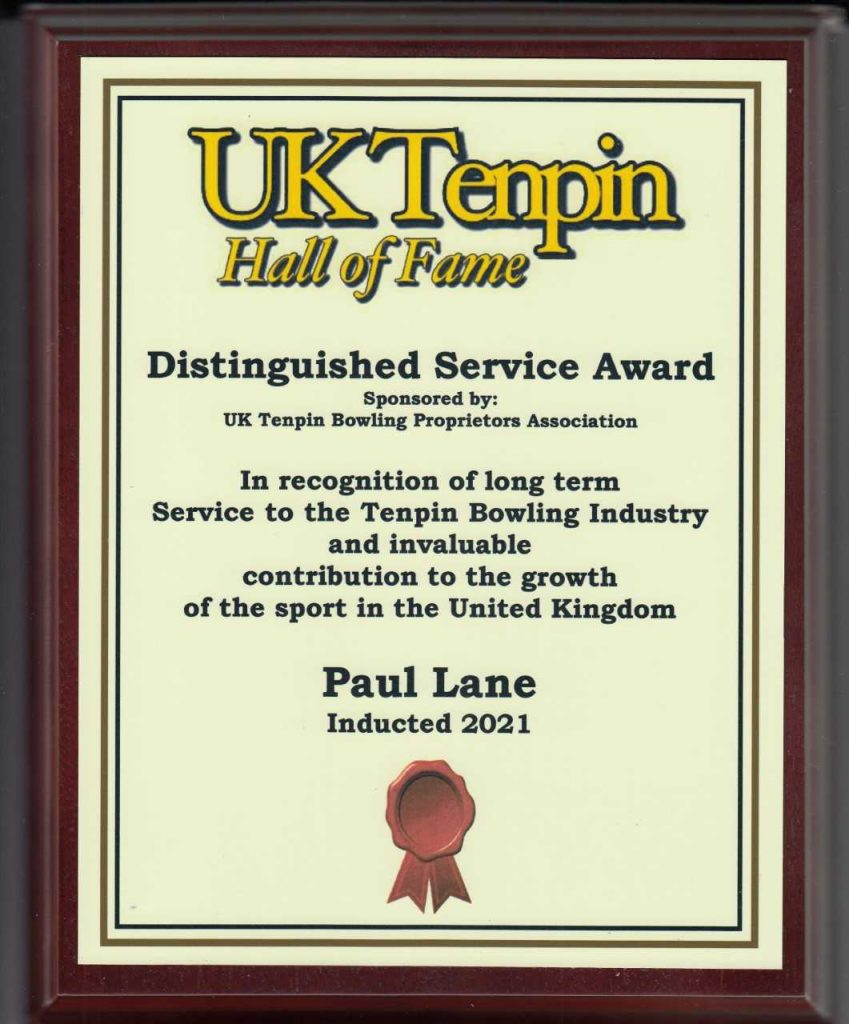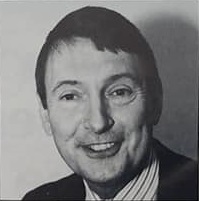 About Paul
Paul got his start in bowling working at the base bowling center at USAF Mildenhall. He started as a pin-boy and moved on to various positions within the center including Lanesman, Snack Bar Manager, Front Desk and Assistant/Manager.
In the late 50's Paul participated in Exhibitions involving US Hall of Fame members such as Lee Jouglard, Tom Hennessey, Marion Ladewig and Frank Clause. In 1958, Paul was involved with what was probably the first ever live TV coverage of bowling in the UK. And hour-long show that took place at the 4-lane US Military base at South Ruislip.
In January 1960 Paul attended the grand opening of the first bowling center in the UK at Stamford Hill as a guest. This led to an offer to join AMF's instruction staff and he accepted and joined for the grand opening of the King Alfred Lanes in Hove in September 1960. This was the start of what turned into a 30-year tenure with the company and a travel schedule that took him to more than 50-countries.
From 1983 to 1990 Paul continued his involvement with the AMF Bowling World Cup, served on the marketing committee of the national Bowling Council, served as AMF's director of marketing and marketing services, before leaving the company to become an independent contractor and starting Paul Lane Marketing, representing more than a dozen major integers of the industry on a consulting basis, and becoming a regular contributor to International Bowling Industry Magazine.
Since 1992 Paul and his family have lived in the-mile-high city of Denver Colorado.
Read more about Paul's full career here