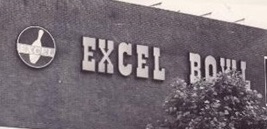 By Tenpin Bowling Proprietors Association President John Ashbridge
What were to be the last three bowling centres in the Excel Bowling estate all opened in 1965, the first of which was the 26-lane centre in Middlesborough that opened on 21st January. As was standard for Excel the bowling equipment was supplied by AMF bowling.  It is unclear how the centre traded as little is known about the operation after opening and for the next few years.
However, it is known that by July 1969, ownership had changed, and the new owner was the Mecca Organisation although it is thought that the centre still traded as Excel Bowl. Research shows that in addition to tenpin bowling musical acts of the time were also performing at the venue.
It appears that, at least, Bill Haley and the Comets, The Fortunes and Soloman King all performed there. The venue would later become a nightclub known as Gaskins/Plus One centre which burnt down in 1983.