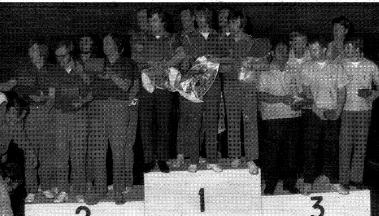 The Bowl de Paris in the Bois de Bologne was a favourite destination for many British Bowlers over the years. For those who had cars or could afford taxis it was fine but for us poorer people it was a walk from Les Sablon Metro to the Jardin d'Acclimation where the bowl was situated, thank goodness we only had two bowling balls in those days.
The Fives event, always held at Easter, was the most iconic but Paris also hosted a great Singles and a Doubles Event.
The Bowl itself was something special with a large glass entrance with an Aviary as you went in. With 12 lanes downstairs and 12 lanes upstairs it became a familiar venue for many bowlers. Watching the final upstairs was always a special occasion for many as we cheered on the British Teams.
A warm welcome was always afforded by Monsieur Cholet and his staff; particularly at the end of tournament party. The bowl had probably the best restaurant housed in any bowling centre, tables full of hors d'ouvres and endless glasses of vin from the help yourself taps on the wall.
The bowling was always extremely competitive with many rivalries formed over the years as well as many friendships. The legendary Sharks team with Philip Dubois were often the team to beat.
The Bowl is now long gone but the memories will last for a long time, if anyone has any particular memories or further information please let us know.