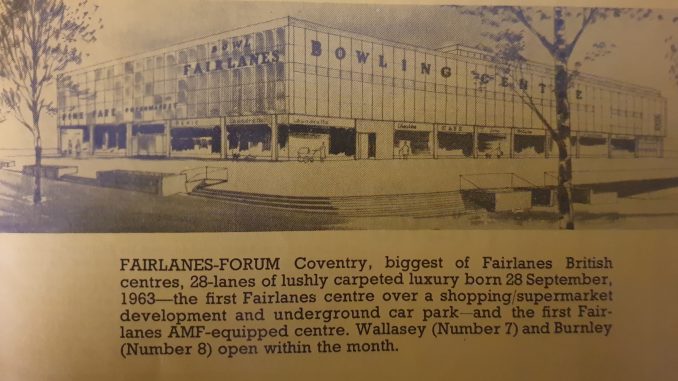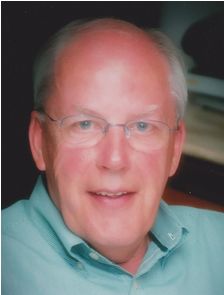 By Tenpin Bowling Proprietors Association President John Ashbridge
Fairlanes Forum Bowl Walsgrave Road Coventry
The site on which the Forum Bowl occupied was formerly the site of the Forum Cinema which opened on 1st November 1934. Built and operated by the local Philpot circuit, the cinema was very large for a suburban cinema and boasted a 45'-wide proscenium. During the war the cinema was closed for several weeks in November 1940 when power was lost through heavy bombing raids. The was no structural damage to the building and with power restored the cinema re-opened during the first week of December. In 1957 the exterior of the building was resurfaced although the interior remained untouched. The cinema closed on 26th May 1962 and was completely demolished with the work completed in August.
The replacement building, which housed a number of shops, the bowling centre on the first floor as well as an underground car park was built soon afterwards. The 28 lane AMF equipped centre opened on 26th September 1963 and, as most bowling centres of the period, quickly became very popular. A large number of leagues were formed and, it is believed, that by June 1964 the bowl was operated by Angallan Enterprises. It was later operated by Phoenix Bowling and about 1965/6 operated by AMF Bowling under a management contract. In April 1967 Humber Bowling Ltd, was formed as a subsidiary of AMF and ownership of the centre passed to Humber Bowling. The Humber Bowling Head Office was established in part of the bowling centre and operated from there for many years.
The centre continued to operate successfully with many leagues and tournaments and subsequently become home of the BTBA Inter Counties Tournament Finals. In 1979 Humber Bowling became AMF Humber Bowling, a division of AMF International Ltd. and the operation continued as normal. During the late 1980's the centre was modernised and refurbished in line with the company's policy and continued under AMF ownership until sometime in 2004. At this time the AMF bowling centres in the UK were sold to private investors and, a little later in the same year, the Forum Bowl was taken over by Bowling International Ltd. Sadly this last take-over did not have a happy ending for the bowling centre and it closed, without warning, on 20th June 2007. Shortly after the closure the building was taken over by a local couple for conversion into a church. After some planning difficulties about disabled access plans were finally approved and it re-opened as an evangelical Hebron Christian Faith Church in 2009.