Year Inducted 2015
David Grainger, has had a long involvement with Tenpin Bowling for over 50 year. He started bowling in Leeds in 1964 at Top Rank Kirkstall Road, where he joined the junior league. He then moved to Excel Bowl Merrion Centre finishing off his junior career before starting to play the Adults leagues, eventually playing 4 leagues per week.
In 1969 David joined the Leeds Polytechnic Bowling Team along with some other well known players from that time, Dave Simons, Paul Creighton, Paul Armitage, Steve Ogden and Paul Gray, who went on to win many University events at that time. David also became the first Student to role a 300 game when playing for Leeds Poly at Belle Vue in 1972. David also became a Phase 1 coach at that time and represented Yorkshire twice.
David's  interest in bowling lead him to take over the running of the Friday 5's at the Merrion Centre Leeds where at its height had 26 x 5 man teams playing, all this had to be done by hand, he was also an active member of the West Yorkshire BTBA.
David moved to Manchester with his new job and started playing at Belle Vue which was at this time being managed his old mate Dave Simons. This was where the thoughts of a Scratch Bowling Tour in the North were formulated. Rob Whittingham a bowler at Belle Vue had his own company, Umbra software, and offered to write league programs and tournament programs for us to use in our various ventures. The three of them then formed Norten Leisure which was to become the vehicle that ran many of the bowling events in the country at that time as well as producing computerized league sheets foe a number of centres way before the time of automatic scoring and computer league programs.
David had moved back to Leeds by this time and together with Dave Simons the Northern Scratch Tour was formed in 1980. This went on to become The National Scratch Tour due to its popularity from bowlers all over the country regularly attracting over 100 entries to each event. The NST introduced a separate ladies section in 1981 at Sheffield Firth Park where Judy Howlett was the first lady winner.
In conjunction with the Premier Tenpin Bowling Club the NST was the first to introduce a rankings system for top bowlers in the UK. This type of ranking system went on to form the basis for Team England greatly increasing participation in events.
Programs were produced for the NST, the British Open, The Irish Open, Bill Taylor Shotmaker events, Sixes tournaments and many others and this became a regular weekend occupation. Results were displayed on 42" monitors placed on top of lockers and other vantage points and printed scores produced quickly so everyone knew where they were. giving a level of service never seen before.
David was then moved to Croydon where he started bowling at Charrington Bowl Tolworth and rejoined Dave Simons in running the National Scratch Tour. It was around this time that it was decided to try and widen what had been done with the NST to reach more bowlers at different levels. To this end the United Kingdom Tenpin Bowling Federation was formed and this took over the running of the London International Matchplay as well as continuing with the NST. The organization did run a number of event which were organised on a Classified basis, and also a very successful trip to De Lier in Holland but could not attract the number of bowlers needed to make it viable and folded after 2 years. It was also under the guidance of the UKTPF that the NST ran an event in Stillorgan Ireland with Bernie Gibbons which went on to become the Irish Open, now 30 years old in 2018.
David then again moved back to Leeds with his new family and whilst he continued bowling twice a week was not involved in organising bowling for a few years. However in 1996 David took a voluntary redundancy package and looked round for another job. This wasn't forthcoming and with a few quid in his pocket contacted Dave Simons again to see if he would like to help in setting up a new bowling centre in West Yorkshire. Dave jumped the chance and with the Technical expertise of Chris Malcolm, who David had first met at Tolworth, opened Go Bowling Shipley in 1997.
From the start the centre was to become a League Bowlers and Tournament centre but balanced with a good healthy open play side. Many leagues were formed as well as the Shipley Bowlers Club and this became the new home of many bowlers both old and new.
As a new bowling proprietor David joined the UK Tenpin Bowling Proprietors Association and is still an active member of the executive committee.
Along with Dave Wardle the Northern Grand Prix was formed and ran for a number of successful years. Shipley also hosted many events such as the North West Fives, Police National singles, the Yorkshire trials and Area Championships as well as its own events.
David finally sold the bowl after 18 years to Jeff Taylor, a well known bowler who has taken Shipley to new heights with his Flex Machine and continued interest in the Sport of Tenpin Bowling.
David still goes into the bowl at Shipley twice a week to keep the finances of the Bowlers Club in order, help with planning some events and running the Youth Bowling Club where he is President as well as a Foundation Coach.
To keep him occupied in retirement David is now working with Dom Gall of Talk Tenpin on producing the Bowling Records for the UK and is the current Administrator for the UK Tenpin Hall of Fame.
The Distinguished Service division is sponsored by the Tenpin Bowling Proprietors Association.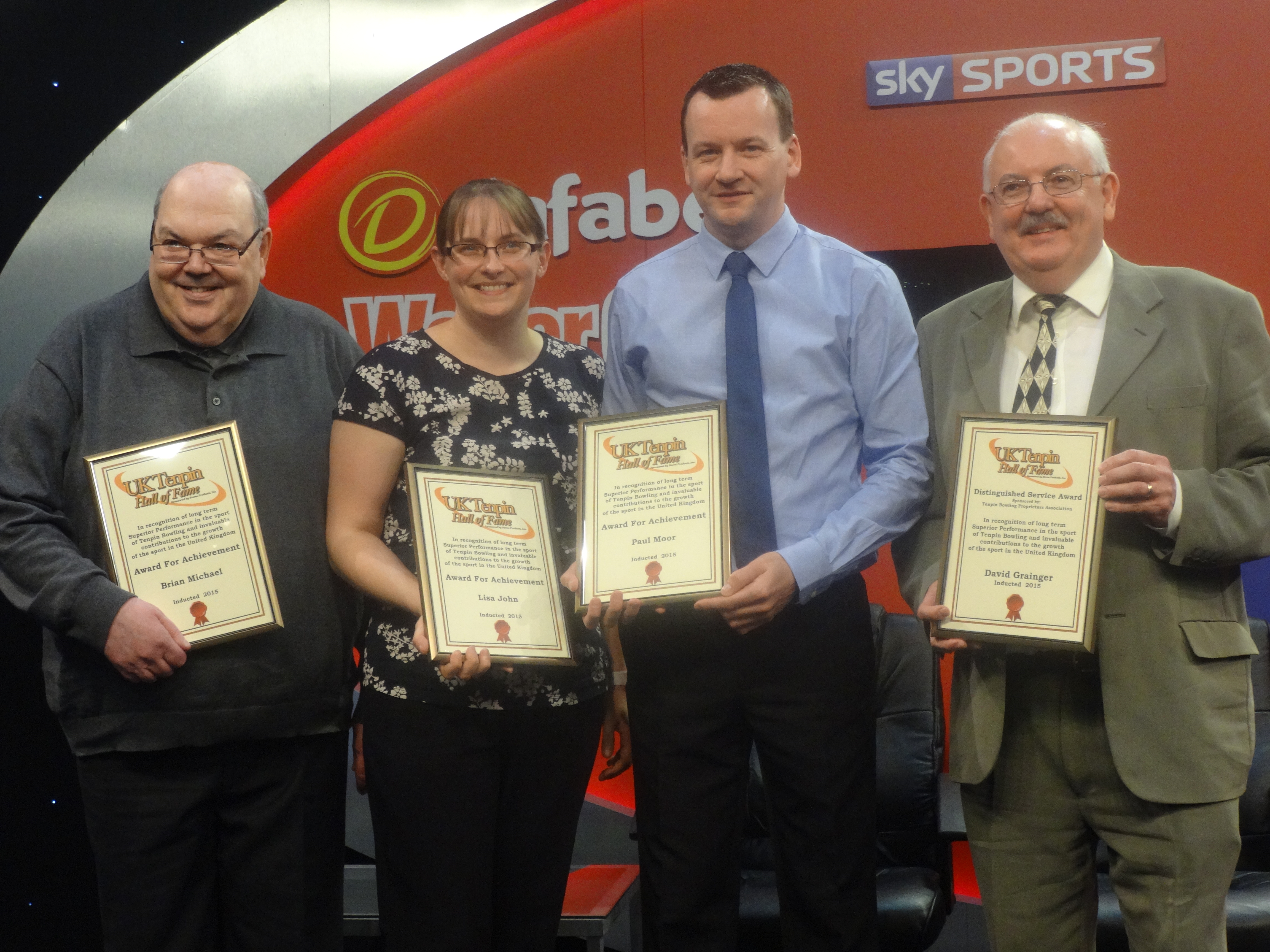 David was presented with his award together with Brian Michael, Lisa John and Paul Moor. The awards presenting party included Weber cup Captain's Dominic Barrett and Chris Barnes and presenting party included Bowltech UK's Roger Whichelow and Storm Products Tim Mack.
You can learn more about David in a Talk Tenpin Interview from 2012 here